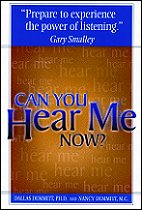 From conflict to caring through the art of listening.
Editorial Review
Book Description
A foundational book for all adults to help you discover the skill of listening in three different areas of your life—helping your relationships, helping others, and helping yourself.
Helping Your Relationships—Here the focus is on freedom from the bondage of control and performance as it impacts your relationships; as well as communication skills for moving through life with other imperfect people who need the grace of God as much as you.


Helping Others— Learn, in your role as a servant leader, how to help another find healing and restoration through vital connection with the Healer and the Restorer. They find relief in his presence and provision and you find relief from the burden of trying to "fix" them. You both leave the burden they brought to you at the feet of Jesus.


Helping Yourself - Experience the transformation that comes through a life of faith empowered by the grace of God, as you learn to trust him and others with the you in whom Christ dwells.
Endorsements:
"I've listened and learned from the Demmitt's for years and I feel Can You Hear Me Now? Couldn't have been written at a better time. Our world is filled with so many words, and so little comprehension. We want so much to be heard, yet so often feel misunderstood when we do share – and that's just with our loved ones! These two listening experts can help you break through the barriers and finally feel understood. What's more, you'll discover how real listening brings you close to Christ and is a clear reflection of His love. The insights here have helped my wife, Cindy, and me, and they'll help you as well."
- Dr. John Trent, author and President of StrongFamilies.com
Wow! This is a great book! I've been hearing (listening to!) Dallas talk about this stuff for years, and I'm overjoyed for him to see his life's passion in print. He's a personal friend and has been actively in involved in leadership and helping people listen-here in our church, Word of Grace. As the Demmitt's pastor, I can assure you that they live what they teach, and what they teach about the art of listening has had an extraordinary impact on hundreds of people. I'm one of them!
- Dr. Gary D. Kinnaman, Senior Minister, Word of Grace Church, Mesa, AZ
Can You Hear Me Now? is a powerful book for anyone interested in better communication. It has the potential not only to improve relationships - especially between husbands and wives - but could well transform a person's understanding of God and His grace. I highly recommend it, particularly to men!
-Bill McCartney, Founder and President of Promise Keepers